Special Events
Special Events
SCHOOL YEAR SEPTEMBER 2018 - JULY 2019
Unveiling the bricks. Nov 7th 2018.
Twelve children accompanied Mrs Cox and Mrs Barbuti to the Armistice event at Barratt homes new development Roman's quarter today. Barratt Homes collected us on a bus and took us to the site where we saw the wreaths made of all the bricks that we had painted. The children also laid a wreath in front of the first street name on the development. All the streets will be named after men from Bingham that lost their lives in World War 1. We listened to the Toothill Big band and enjoyed the choir performance from Robert Miles Juniors and Carnarvon.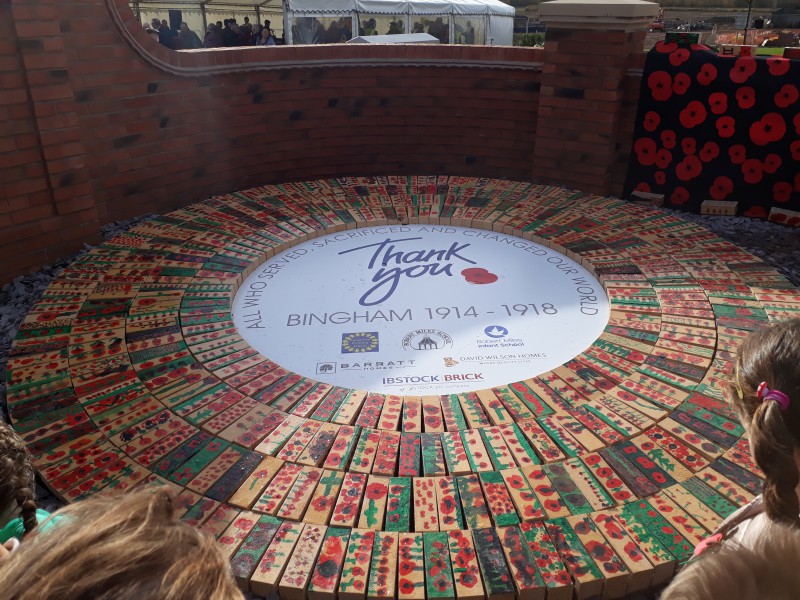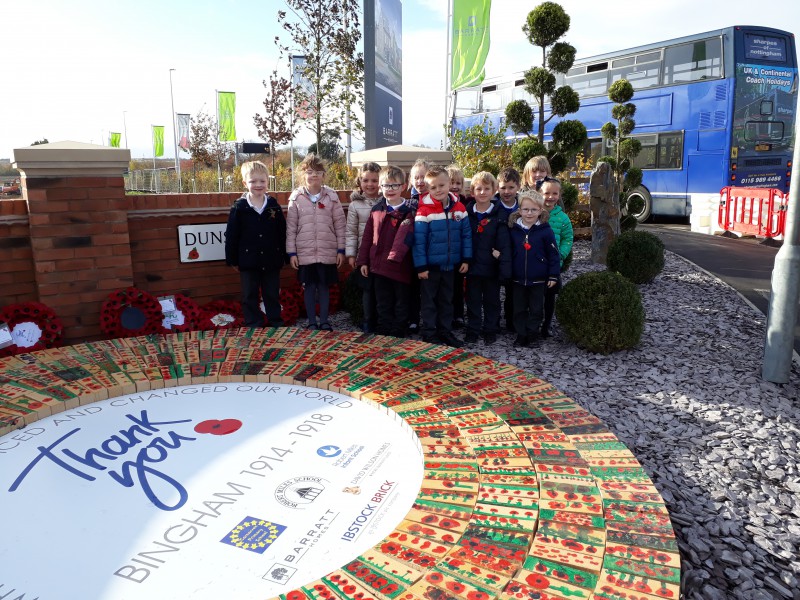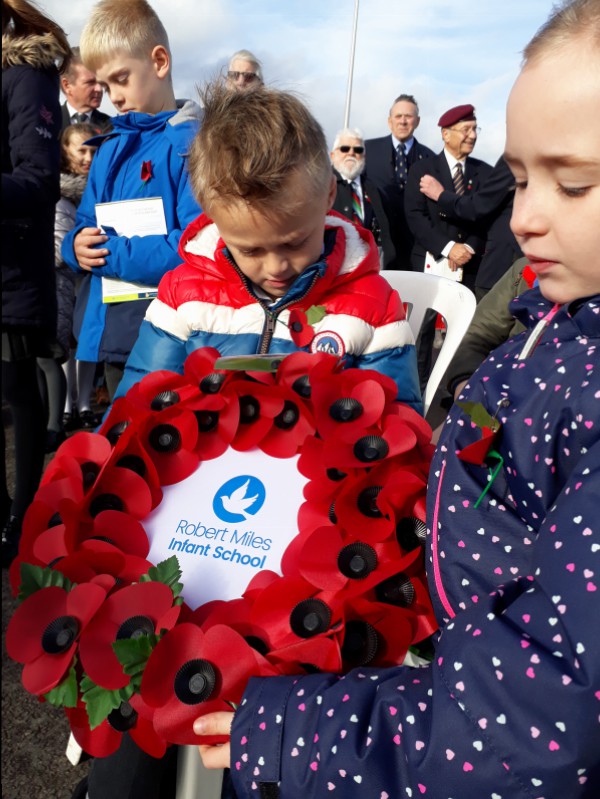 Eco Event 8th October 2018
Thank you to all the parents and children that came along to help us tidy the school grounds this afternoon - your help was very much appreciated. The bamboo and willow in the sensory garden has been cut back and the raised planters cleared of debris. The boundary fence border has been dug over and lots of wildflower seeds have been sown. We also planted a variety of bulbs. In the spring, we hope to see a colourful display of wild flowers that will attract and help lots of wildlife to thrive. The children have painted cobble stones to create a feature in the middle of our wildflower border - see the photo below.
Please click on the thumbnails to enlarge the photos - then use the left and right arrow keys to scroll through the gallery.
SCHOOL YEAR SEPTEMBER 2017 - JULY 2018
World Book Day 2018
Due to the adverse weather conditions and subsequent school closure we celebrated World Book Day on Monday 5th March 2018.
The children were invited to come to school wearing a costume that reflected a character from a book or story that they particularly enjoy. The children worked in new groups (mixed ages/classes). They had fun listening to and participating in exciting activities linked to the following stories:
Snow White
Beauty and the Beast
Cinderella
The Princess and the Pea
Hansel and Gretel
The Frog Prince
In the afternoon we held a special World Book Day assembly. We wanted to get the children excited about books and inspire a love of reading. It was an opportunity for staff and children to share their favourite authors and books. The whole school were able to see the exciting things that the children had been doing and to see the amazing array of costumes.
The day culminated in parents/carers coming into school to share a book with a small group of children. A huge thank you to all those parents, grandparents and carers who were able to participate - the children really enjoyed it.
Please click on the thumbnail and then use the left and right arrow keys to scroll through the gallery.
December 2018
| M | T | W | T | F | WE |
| --- | --- | --- | --- | --- | --- |
| | | | | | 1 |
| 3 | 4 | 5 | 6 | 7 | 8 |
| 10 | 11 | 12 | 13 | 14 | 15 |
| 17 | 18 | 19 | 20 | 21 | 22 |
| 24 | 25 | 26 | 27 | 28 | 29 |
| 31 | | | | | |