Children's Work
Children's Work
SCHOOL YEAR SEPTEMBER 2018 - JULY 2019
Spring term KS1 - The Princess and the White Bear King
Both Year 1 and Year 2 have been working on an exciting topic around a book by Tanya Robyn Batt called The Princess and the White Bear King. It is a re-telling of a traditional tale from Northern Europe and the children have enjoyed spotting familiar stories within it like Sleeping Beauty and Beauty and the Beast. They have loved the anticipation created by only reading a small section at a time and predicting what might happen next. They were satisfied with the ending when they finally reached it but sad that the story was over. The pupils have written diary entries, drawn story maps and even created their own class chapter books by taking a section each to retell. The Year 1 pupils enjoyed drawing maps of the land of the princess, whilst the Year 2s have been looking at maps of Northern Europe in more detail and learning about the Scandinavian countries. Year 1 has very excited to learn about the Arctic and Antarctic and Year 2 the continents and oceans of the world. We have been delighted to see so many pupils engaged in their learning and bringing into school extra homework around this topic. Maya in Year 2 and Georgia in Year 1 have especially impressed their teachers.
Here are samples of the Y2 literacy work.
Please click on the thumbnails to enlarge then use the left and right arrow keys to scroll through the gallery.
October
This autumn we have planted seeds to create a wildflower border along our boundary fence on the school field. In the spring, we hope to see a colourful display of wild flowers that will attract and help lots of wildlife to thrive. The children, in all year groups, have been painting cobble stones to create a feature in the middle of our wildflower border.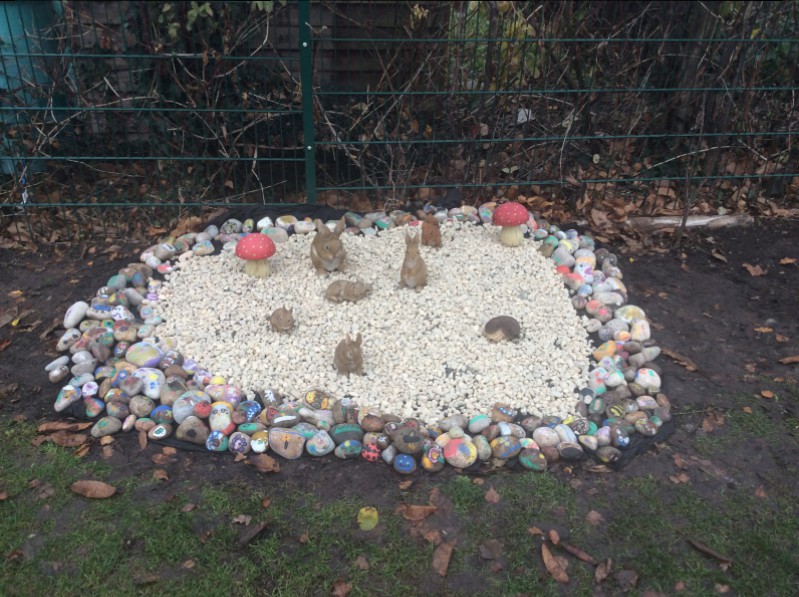 October 2019
| M | T | W | T | F | WE |
| --- | --- | --- | --- | --- | --- |
| | 1 | 2 | 3 | 4 | 5 |
| 7 | 8 | 9 | 10 | 11 | 12 |
| 14 | 15 | 16 | 17 | 18 | 19 |
| 21 | 22 | 23 | 24 | 25 | 26 |
| 28 | 29 | 30 | 31 | | |