Wednesday 20th October 2021 is Open evening for current students attending school. Please see the pupil and parent portal for more information.
2018/19 - Summer Term
2018/19 - Summer Term
Friday 28th June
This week the children have been retelling "Into the Forest" by Anthony Browne.
We began by predicting what would happen in the story using the props we found in the suitcase. After reading the story the children created an amazing story map. They had fun acting out the story and enjoyed exploring the varied sounds musical instruments make.
Photos to follow shortly.
As part of our Enterprise week 17th June - 21st June Year 2 decided to create a piece of art work that would make a lovely memento to keep. Each class was given a loan and the idea was to make their money grow and repay the loan (£30.00). Every member of Sycamore class drew a self portrait which was then amalgamated to create a colourful picture, this was then framed. This children then advertised their delightful keepsake and sold it for £4 on their stall at the summer fair today. Parents/carers also had the opportunity to purchase some beautifully decorated stones / paper weights for £1. Please speak to a member of staff if you would like to purchase a framed copy of the children's art work as we still have some left.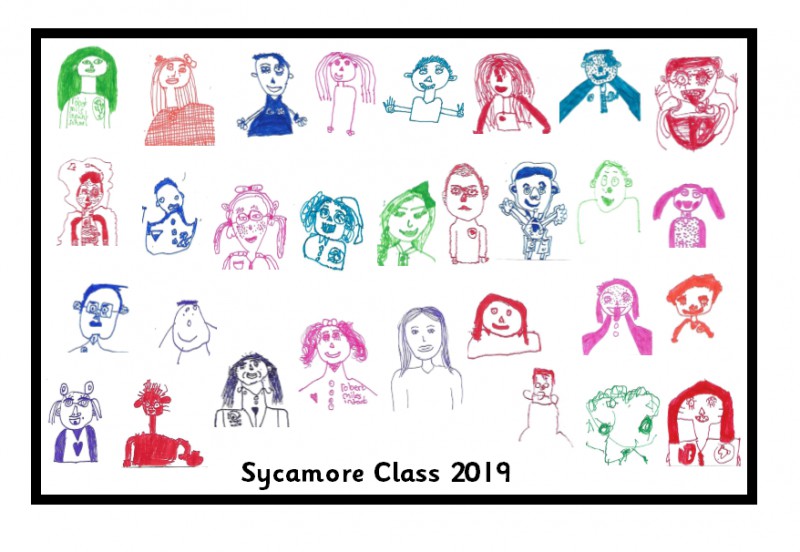 All names have been removed to enable it to be shown on the website. The keepsake art work (£4) has each child's name under their self portrait.
Friday 21st June
Enterprise Week - our week began with an assembly by Mrs Barbuti that started the children thinking about where we get our money from, and what we have to do to earn it. Year 2 decided to make a whole class picture with colourful self portraits. We hope that you would like to purchase a framed picture of your child's class. What a lovely keepsake!
On Tuesday our Y2 children visited Robert Miles Junior School. Mr Gilbey, the Head Teacher, gave them a guided tour of the school and it's fabulous grounds. Some Year 6 children then gave a detailed presentation showing our children the daily routines of the school and other activities such as residential trips, music lessons and various clubs.
Click on the photo to enlarge then use the left and right arrow keys to scroll through the gallery.
Friday 14th June
In literacy the children have been writing a recount of their trip to Perlethorpe. All the staff and children thoroughly enjoyed their camping experience. All the photos will shortly be posted onto our website - see our photo galleries page.
As Father's Day is this Sunday, the children made a card for their Dad or someone special to them. How poignant some of the messages were!
On Tuesday we visited the learning lounge at Toot Hill School. The children enjoyed writing a postcard to a friend and playing word and picture bingo games. Then they listened as Mrs Maris read them a story called Tiddler by Julia Donaldson.
Please click on the photo to enlarge then click on the left and right arrow keys to scroll through the gallery.
These last weeks of the summer term will be busy but will be lots of fun. We have started rehearsing for our Y2 Leavers' Concert - Eddie the Penguin Saves the World.
Friday 7th June
In literacy the children have been looking at the story The Black Hat by Maia Walczak. They have made their own magical hats and have enjoyed acting out part of the story. Please click on the link below to watch the story.
https://www.youtube.com/watch?v=DoKavOfPkwo
This week we have all been really excited about our forthcoming trip to Perlethorpe. The children are really looking forward to staying overnight in a tent with their friends. Unfortunately the weather forecast predicts rain!
Friday 24th May
This week we have explored the work of different artists and we used different techniques to create our art work.
In maths we have been learning about the properties of 2D and 3D shapes. Using their shape knowledge the children used matchsticks to create various 2D and 3D shapes.
Photos will follow shortly.
Friday 17th May
SATs - What a busy week Y2 have had!
The children have been participating in team building activities and enjoying using our construction resources.
Photos will follow shortly.
This week, in art, the children have been painting trees using 'impressionism'. Please take a look at their super art work in the corridor next to Beech class.
Friday 10th May
This term the children have enjoyed writing imaginatively, using a range of stories and video clips as writing stimulus. The children thought that the illustrations in a book called Leaf by Sandra Dieckmann were amazing. They were inspired to create their own leaf drawings using some of her techniques.
Friday 3rd May
This week in English we have been using the video clip 'Origins' from the website Literacy Shed (https://www.literacyshed.com/origins.html) to support our learning. We started the week by discussing the video clip, stopping at different parts and asking/answering questions. We held another debate as to whether we think the robot should go into the factory or go back to the woods. It is nice to see children becoming more confident to share their opinions and understand why it is important that we can learn to agree or disagree with each other and develop our reasoning to explain our viewpoints. We have used this clip to learn how to use speech marks correctly by thinking about what the robot might be saying at different points in the clip. We have also written our own setting description about what the factory might look like inside. This has enabled children to use their imagination and include adjectives and similes in their writing. At the end of the week children will be writing an alternative ending to this story, which they seem to be very excited about!
This week was our last week of doing maypole. The children have loved learning how to dance the maypole. They can dance a few different dances now completely independently, without the teacher even saying a word – I am very proud of them! We videoed this dance and we are looking forward to sharing it with the rest of the school.
Friday 26th April
Welcome back after the Easter holidays. We hope that you enjoyed the wonderful sunshine and are all well rested and ready for our busy last term of school.
Our topic this term is called 'Into the Woods'. In this topic we will be using fairy tales to help us develop our creative writing and descriptions. This topic will complement our Camp trip which we are very excited about!
We began this topic by going to investigate our wildlife area for clues due to receiving an intriguing letter from a passer-by over the Easter holidays! We noticed that some things were out of place and we are still trying to figure out what might have happened in there. When we find out what has been in our wildlife area we are going to write back to Wendy to tell her all about it!
In English the first text we looked at was a story called 'Leaf' by Sandra Dieckmann. This was about a polar bear that got lost and ended up in the woods. We had fun debating whether the polar bear should stay or go home and the children enjoyed carrying out a 'conscience alley' to put across their opinions. We looked at the poet Michael Rosen and one of his poems 'Dinnertime'. We were inspired by this poem and decided to create our own poem with a similar structure, using an illustration from our story book 'Leaf'. The children sequenced their poems and then performed them. It is lovely to see children's confidence and independence develop as they continue to grow in Year 2. The children also noticed the amazing illustrations in this book and we found out Sandra Dieckmann actually illustrated the book herself! This inspired us to create some art work using the same techniques as Sandra Dieckmann. We have also looked at different artists that draw and paint woodland scenes, including Monet.
October 2021
| M | T | W | T | F | WE |
| --- | --- | --- | --- | --- | --- |
| | | | | 1 | 2 |
| 4 | 5 | 6 | 7 | 8 | 9 |
| 11 | 12 | 13 | 14 | 15 | 16 |
| 18 | 19 | 20 | 21 | 22 | 23 |
| 25 | 26 | 27 | 28 | 29 | 30 |