Latest News
Latest News
Step 4 Covid update for Schools - All you need to know as parents and carers.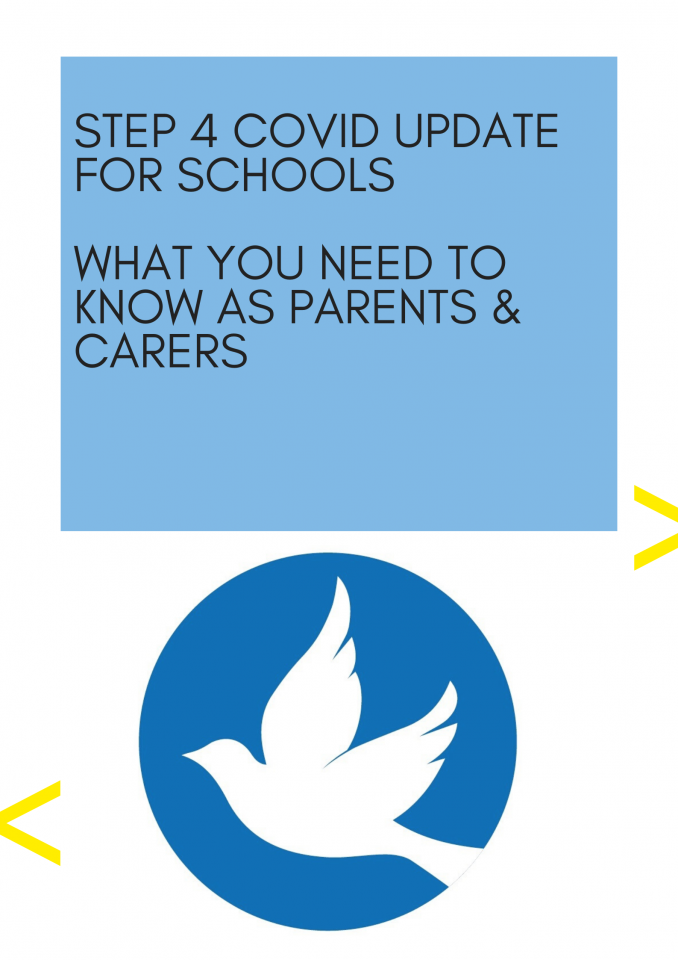 As the country moves to Step 4 of the Roadmap, the government will continue to manage the risk of serious illness from the spread of the virus. This marks a new phase in the government's response to the pandemic, moving away from stringent restrictions on everyone's day-to-day lives.
As COVID-19 becomes a virus that we learn to live with, there is now an imperative to reduce the disruption to children and young people's education - particularly given that the direct clinical risks to children are extremely low, and every adult has been offered a first vaccine and the opportunity for two doses by mid-September
The key messages from this guidance are:
Nationally, education and childcare settings are open, and attendance is mandatory (for schools) and strongly encouraged (at childminders, nurseries and colleges
The Royal College of Paediatrics and Child Health has made it clear that the overwhelming majority of children and young people still have no symptoms or very mild illness only.
Over the summer, staff, secondary pupils and college students should continue to test regularly if they are attending settings that remain open - Robert Miles is closed over the summer and therefore staff will not need to continue testing over the summer period. there is no need for primary age pupils (those in year 6 and below) to test over the summer period.
from Step 4 nurseries, schools or colleges will no longer trace close contacts - close contacts will be identified via NHS Test and Trace.
from Step 4, your child does not need to remain in a consistent group ('bubble')
from Step 4, face coverings will no longer be advised for pupils, staff and visitors either in classrooms or in communal areas.
We hope that in September school will feel more 'normal' for your child, we intend to reintroduce assemblies and remove bubbles from our Covid management plan in line with the Government guidance. This however is subject to change - If there is an outbreak in school, or if our school is in an enhanced response area, we may be advised that it is necessary for us to reintroduce bubbles or to keep groups apart for a temporary period to reduce mixing between groups and therefore minimise the spread of the virus.
We will continue to follow the Government guidelines and hope that the roadmap to Stage 4 continues and we can proceed with making the changes listed above.
We would like to take this opportunity to thank you all for being patient and following the procedures we have had in school during this academic year. The children have been fantastic and we couldn't be prouder of they have responded to all the changes in school with COVID-19.
July 2022
| M | T | W | T | F | WE |
| --- | --- | --- | --- | --- | --- |
| | | | | 1 | 2 |
| 4 | 5 | 6 | 7 | 8 | 9 |
| 11 | 12 | 13 | 14 | 15 | 16 |
| 18 | 19 | 20 | 21 | 22 | 23 |
| 25 | 26 | 27 | 28 | 29 | 30 |